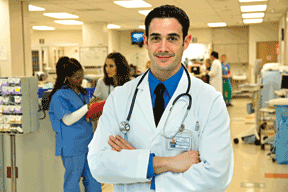 How do you effectively recruit a physician or other healthcare provider? I will lay out some tips to recruit any physician or other healthcare provider.
1. Subscribe to a database of current candidates actively looking for jobs.
2. Once you obtain CVs that match jobs you are hoping to fill, contact these healthcare providers.
3. Then, get specific details on what each provider wants…outpatient vs. inpatient, call or no call, benefits and salary requirements, geographic preference, spouse's career (you may have a couple who are both looking for jobs), etc.
4. It's like any business…offer a product (a job in this case) to an audience looking for it. The more targeted the better. Don't offer an inpatient job in Montana to a physician that asked to be in TX as an outpatient physician. This happens all the time. I just received an email today for family practice jobs in Vancouver that pay 300K. Sounds nice, but I am not a family practitioner and never wanted to be in Canada!
5. Build a blog and post relevant content (eg., what is Locum Tenens?) that draws the reader in and keeps them coming back for more. Give visitors the option to subscribe to your list or newsletter. This way you can keep in touch with them and contact them at the same time they may be searching for a job. Imagine mailing out one job to 1000s of physicians on your mailing list.
6. Start an affiliate program. I see a lot of recruiting companies offer rewards ($1000) for referrals, but no true way to track these. I would suggest setting up an affiliate program where you pay for leads (let's say $5) and then more if they convert and get placed. You can track who sends you that referral thru an affiliate link and pay out on a weekly or monthly basis. All major companies like Amazon and WalMart have affiliate programs. It would be best to hire a computer programmer for this.
7. Stay in contact with any physician/healthcare provider even if their contract is over with your company. You never know when they might need another job or what contacts they may have.
8. Use social media, namely LinkedIn, Facebook, Twitter and Youtube to spread the word about jobs virally. It's a must these days to use social media.
9. Use Google Places to advertise locally. The key is to use the keywords in the title and description, eg. "houston radiology jobs".
10. Use Craigslist to post local jobs under "medical/health" or "biotech/science".
Hope you can use at least one of these tips to enhance your business.
Please use buttons below to share with friends and colleagues on Facebook and Twitter.
Please leave a comment! Thanks.
If you have any interest for a  digital ebook detailing many ways to advertise online for "leads", please state so in the comments. 
Facebook Comments:
comments
Powered by Facebook Comments